News Blog
School Council fundraise for Centerpoint
Posted on: 8th Dec 2021
Each year at WGPS, the school council reps help to choose a charity to support throughout the year. This is an opportunity for the children to take part in fundraising activities and learn more about the work of the chosen charity.
This year, the school council contributed some brilliant ideas and Centrepoint was selected.
Centrepoint is a charity in the UK which provides accommodation and support to homeless people aged 16–25. Prince William, Duke of Cambridge, has been a patron of the organization since 2005; his first patronage. His mother Diana, Princess of Wales, was patron of the organisation before she died. The charity was initially set up in London.
We will be raising money for Centrepoint this Christmas by holding a Christmas jumper day on Friday 10th December. Everyone will be coming to school in their festive jumpers and enjoying their special Christmas lunch together. Also, our many nativities and Christmas shows and concerts are another opportunity for us to raise awareness for this charity.
Throughout 2022, we will learn more about the charity's work through assemblies and other educational activities. We will be organising a summer event to round up the year with Centrepoint.
If you would like to donate, click on the image below to visit our justgiving page.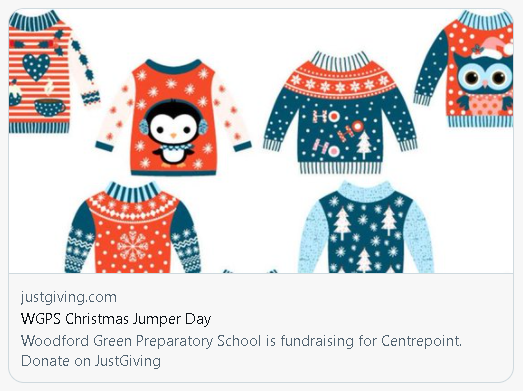 Thank you for your support.